How to Shop for Clothes Online and Get a Perfect Fit
Shopping for clothes online can get you great style at bargain price, but it comes with the worry that because you're buying a clothing item sigh-unseen, it just won't fit and you've wasted your money. Here's how to make sure that never, ever happens.
Many people love shopping for clothes and the ability to shop for clothes online makes it easy to improve your personal style and dress better, and take the stress and shame out of clothes buying. It's natural more and more people want to do it. It does however come with the stress of possibly having to return whatever you buy because it doesn't fit. It's not like there's a dressing room for online stores. Well, we can't eliminate you ever having to deal with returns or exchanges, but with a little planing and some smart shopping, we can make sure it's rare.

Get Some Accurate Measurements for Your Body, and Keep Them Up to Date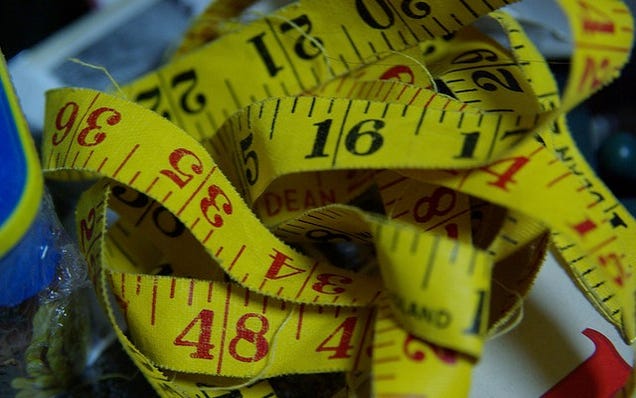 The first, and maybe the most important thing you can do before you shop online is to get proper measurements of yourself. Once you have an idea of your size, beyond "large", "size 10," or "42 waist," you'll be able to shop without fear. Remember, one company's size 10 is another company's size 8. Labels and designers purposefully use "vanity sizes" to confuse customers, and even though the whole point of size and inches is to give customers standards, one company's 42 inch slacks will fit drastically differently than another's. The best way to fight back is to make sure you have your own measurements. Here's how.

* Get a professional to take them for you: Obviously, the best way to get accurate measurements possible is to have someone else to take them while you're standing normally. If you can, head to a clothing store (I know, the whole point here is to shop online and avoid clothing stores, but just this once) and have your measurements properly taken by someone who does it all the time and knows what they're doing. This is especially important for women and bra sizes - getting properly fitted for a bra is a difficult thing for everyone, and it's even harder if you're alone. Visit a longer or womenswear store and get a proper bra fitting so you have it in your back pocket. Alternatively, now would be a good time for you to find a tailor or seamstress in your community that can do measurements, and may even keep them on file so they don't have to re-take them every time you bring them something that needs work. Once you have them, you'll be ready to shop.

* Take them yourself (or have a friend to help you out): The alternative to having a pro doing it, of course, is to do it yourself. You have to be careful taking your own measurements - don't suck in your gut, or try to stand up straighter than you normally do - trying to "optimise" your posture or size will just lead to uncomfortable clothing. Similarly, if you must take your own measurements, get a friend or family member to help you out with the hard accurately reach places, like the inseam for gents or the bust for ladies.

** For Men, you have a couple of areas to pay attention to. For pants and slacks, you'll naturally want your height, waist size and inseam, but should also measure your hips and, if you have more pronounced backside, your 'natural hips,' or the width around your pelvis across your seat. Having all of these in-hand will make sure you know what you're in for when you buy pants and slacks. For shirts, make sure to take your chest size, your sleeve length and your neck size Even if you tend not to wear anything on your upper body that isn't sized in "S - M - L - XL," those numbers will be what you need for dress shirts, blazers and suit coats.

** For Women, you have a few more things to be concerned about. You'll want to measure your bust - the fullest part of your chest, and make note of that. If you want your bra size, we still think a professional bra fitting is best, but considering the teenager working the counter at your local Victoria's Secret may not exactly be a "professional,". You'll also want to measure your "natural waist," or the slimmest part of your torso, not necessarily your was it measurements. It's not often used in women's clothing, but it's good to have. Women's clothing usually use hip measurements - o the size around the fullest part of your body at the top of the legs, around and across your seat. You will also want your inseam for slacks and pants. If you plan to wear collared shirts and blouses, take all of the same measurements mentioned above, including neck size and sleeve length. Take notes of everything - along with bust sizes, you will be in good shape to buy a button-down that looks good.

Using Our Size Chart

Speaking go size chart, once you have your measurements, size charts will be your best friend when shopping online. You won't ever need to trust that a "large" is indeed "small" to fit - you can just look at the sizing chart, find yourself on it, and go from there. If you're shopping for clothes for a while, you may already know this, but it's even more important when you're shopping online, especially from retailers that carry different labels, designers and clothing manufactures.

Keep in mind that our sizes are most ASIAN SIZES and they fit smaller than sizes in Europe, Australia and the United States, are initially advise our customers to pick 2 or 3 sizes bigger than they original sizes, but with your proper measurements you will be completely fine in picking the right size for you.

Hot practical tip: Buy 2 items with different sizes even if you think you know your size, when the items arrive you can try them and return the one that doesn't fit.

So now that you have your sizes and more informations about our size chart, we have selected some hot offers so you can start shopping now your next super fashion item.

1. GoSkater Morality Jacket for Men - Preserve your good reputation of being trendy with the new GoSkater Morality Jacket for Men.
2. Mountainskin Casual Jackets for Men - Complete your style with the new Mountainskin Casual Jackets for Men.
3. London Face 2018 New Casual Slim Jacket for Men - The new London Face 2018 New Casual Slim Jacket for Men is your smart item to complete your style.
---